THE NANOCOM EVOLUTION
January 12, 2013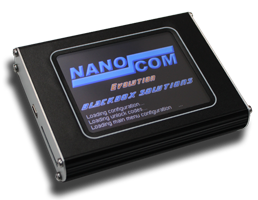 Welcome to the New Nanocom web site. This is the home of the famous diagnostic system for Land Rover vehicles, which is well renowned in the Land Rover community for offering the greatest capability and functionality at the lowest possible cost.

Since its first introduction many years ago, the Nanocom has evolved quite significantly, becoming the Nanocom Evolution and was taken over by Blackbox Solutions Ltd in January 2011.

As the worlds most well known and most respected specialist in developing diagnostic equipment for Land Rover vehicles, with nearly 20 years experience, Blackbox Solutions gave the Nanocom Evolution a makeover and also enhanced its capabilities. The Nanocom Evolution made a quantum leap forward and quickly took things to a whole new level, both in respect of hardware and software.

For the Land Rover models the Nanocom Evolution covers, it is no exaggeration to say that it is simply the equipment of choice.

While it is primarily a standalone unit, it does not suffer from the usual bubble type keypad with a small number of navigation buttons that must be repeatedly pressed to move a cursor around a small text only type monochrome LCD display.

Instead, almost the entire front panel of the Nanocom Evolution is occupied by a full colour TFT graphics display. This is not only sharp and bright, but also uses a finger touch screen panel for operational control. The Nanocom Evolution is as intuitive and easy to use as any smart phone or Tablet device, which makes it especially super easy to operate.

This also makes it notably small and thin, however, due to it being cased in a custom designed matt Black Aluminium case with curved and ribbed sides, and Aluminium end plates, the unit is incredibly robust and feels really great in the hand.

The unit is also technologically very advanced and innovative, which allows it to overcome all of the restrictions that are so typical of standalone equipment. One of the most notable examples of this is that it also has an SD/SDHC card slot which allows the saving / logging of a huge range of diagnostic information that can then be accessed on a PC /MAC etc. Of course this is also used to provide the unit with map files, used to re flash / re map vehicle ECUs etc.

The Nanocom Evolution can of course also be very easily updated via its mini USB connection, has sound for touch input feedback etc and connects to the vehicle using a single heavy duty OBDII lead.