NCOM02 Discovery II TD5 kit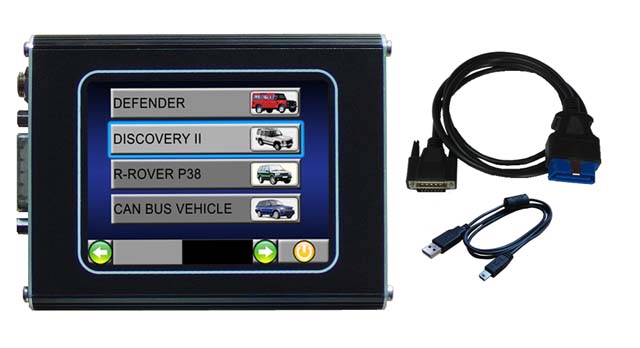 The Nanocom Evolution for the Discovery II TD5 includes the following:
The main Nanocom Evolution unit,
Blue OBD lead (used to connect the Nanocom Evolution unit to the vehicles OBD socket),
USB Update lead (used to connect the Nanocom Evolution unit to a laptop/PC for updating Firmware or inputting the unlock codes).
Unlock code packs for the Discovery TD5:
NCOM11:
TD5 Engine Management System
TD5 MAP a flashing function to remap the programmable type ECU's
Full of functions and features, the TD5 engine management software offers reading and clearing of fault codes, the read and write of certain settings including Injector codes. Viewing of Live data, checking of Outputs and putting the ECU into learn mode for the security coding. You should note that there are 2 variations of the TD5 ECU, MSB denotes a non programmable version where the later NNN can be programmed using the Nanocom Evolution.
NCOM13 Discovery II Systems:

Valeo BCU (Body Control unit)
Reading of live Inputs, Settings, checking Outputs and key programming.
SLABS (combined Self Leveling and ABS system)
As well as the expected reading and clearing of faults, settings pages, Inputs and Outputs, you can also calibrate the Suspension and store the new heights. Note that the ECU will not allow individual calibration, only the Left and Right sides. There is also a bleed function for the hydraulic systems.
Lucas ACE (Active Cornering Enhancement)
This ECU was designed to help improve cornering issues found in the Discovery 1. The Nanocom Evolution has the ability to read and clear Faults, check settings, View Live data, check outputs and also bleed the ACE system.
BOSCH AUTO BOX GS8.87.0 (all Automatics)
Quite limited on functionality by design of the ECU, apart from the Read and Clear Faults you can only read the settings but not make changes. As with most ECU's we have designed our software to read live data and reset the adaptive values learned over time by the ECU
Only found in the Discovery II, it supports side Airbags and Seat Belt Pretensioners. Functionality is limited again by the ECU design to Reading and clearing any of the possible 37 faults that the ECU can store and also to read the settings. There is only one option programmable in the ECU and this is the VIN which should be written if the ECU is replaced.
Please note that the Cruise Control in the Discovery II TD5 is managed by the Engine management ECU and is not a seperate ECU