Nanocom Evolution Unlock Code packs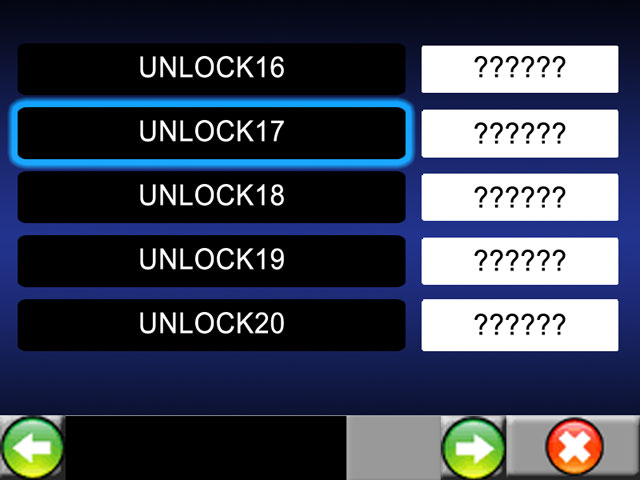 With any of the Nanocom Evolution kits you can of course add further vehicle coverage to that already provided in the kits by purchasing additional Unlock codes.
The following Unlock code packs are available by clicking on the Shop Menu
NCOM11 - NANOCOM Unlock code for the TD5 Engine Managment
Adds the TD5 Engine Management and ECU mapping facility
NCOM12 - NANOCOM Unlock Code for the Defender systems
Adds access to Wabco D (Defender) ABS and Lucas 10AS Alarm
NCOM13 - NANOCOM Unlock code for the Discovery II systems
Adds the following ECU access - BCU (Body Control), SLABS (Self Levelling and ABS), ACE (Active Cornering Enhancement), Autobox and Airbag
NCOM14 - NANOCOM Unlock code for the Puma Defender 2007 - 2014
Adds the Puma 2.2 and 2.4 Engine Management and Instrument pack
NCOM15 - NANOCOM Unlock code for the Motronic V8 Engine Management
Adds the Motronic petrol V8 engine management system. Can be used on Discovery II and/or P38.
NCOM16 - NANOCOM Unlock code for the P38 systems
Adds access to the following P38 systems - BeCM (Body Control unit), Lucas EAS (Suspension), Wabco ABS Type C (94-99), Wabco ABS Type D (1999 on), TRW MPS (TYPE 1) Airbag (94-96 Non NAS)(94-99 NAS only), TRW SPS (TYPE 1) Airbag (96-99 Non NAS), TRW SPS (TYPE 2) Airbag (1999 on), HEVAC, Cruise Control (Petrol 1999 onwards only), BOSCH AUTO BOX GS2.38 (Petrol up to 1999, Diesel up to 2002) and BOSCH AUTO BOX GS8.87.1 (1999 on)
NCOM17 - NANOCOM Unlock code for the GEMS Engine Management
Adds the ability to access the P38 GEMS Petrol engine management found in the Range Rover P38
NCOM18 - NANOCOM Unlock code for the EDC (Diesel) Engine Management
Adds the ability to access the Diesel engine management found in the Range Rover P38
NCOM50 - NANOCOM Unlock code for the Discovery 3 2005 - 2009
Adds the ability to access the available systems on the Discovery 3 2005 - 2009
NCOM51 - NANOCOM Unlock code for the Range Rover Sport 2005 - 2009
Adds the ability to access the available systems on the Range Rover Sport 2005 - 2009
NCOM53 - NANOCOM Unlock code for the Freelander 2 2007 - 2012
Adds the ability to access the available systems on the Freelander 2 2007 - 2012
NCOM54 - NANOCOM unlock code for the Discovery 4 2010 - 2015
Adds the ability to access the available systems on the Discovery 4 2010 - 2013
NCOM55 - NANOCOM unlock code for Range Rover Sport 2010 - 2013
Adds the ability to access the available systems on the Range Rover Sport 2010 - 2013
NCOM56 - NANOCOM unlock code for Range Rover L322 2010 - 2013
Adds the ability to access the available systems on the Range Rover L322 2010 - 2013